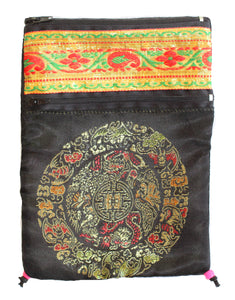 Black Rayon and velveteen tarot bag with mandala.
This mandala bag holds more than your passport or your tarot deck, although it does make a great passport bag or even club bag. 
The Velveteen side has an open compartment where you can stash the shoulder strap.  The Mandala side has a side zippered compartment.  There aren't any gussets, so besides your deck, this bag prefers flatter objects. 
Each bag is unique as to exact colors and design of mandala and woven ribbon.
Mandala meaning
The word mandala comes from a Sanskrit word for circle.  Different mandalas mean different things and have different purposes depending upon the design and its geometry, the colors and the cultural interpretation.
Most often, it is used for purposes of meditation as a point of focus. The mandala embraces the sacred order of things on a cosmic and psychic level.