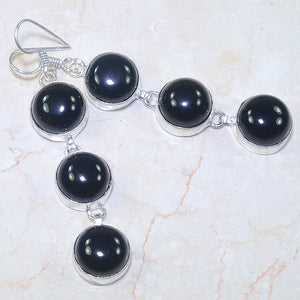 Black Onyx earrings comprised of three round dome cabochons set in sterling silver.
Black Onyx properties:
Black Onyx is the crystal for amassing great power and a fortune that you then use to better the world.  It aids your goals, especially the philanthropic ones.  
Encourages originality ... the kind that solves the impossible problems.
Great for issues of apathy, indifference and insensitivity.
Androgynous stone that balances the yin and yang; the feminine and masculine qualities within oneself, relationships, a family, a company, and a community.
Recommended for heart, kidneys, nerves, skin and capillaries.
Each earring sports three 12mm round, domed cabochons set in Sterling Silver with stainless steel ear wires.  2-3/4 inches long from top of ear wire.