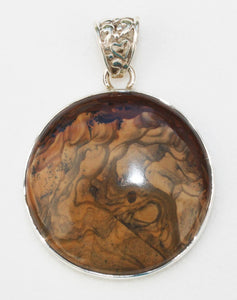 Biggs Jasper pendant in sterling silver setting that measures 1.77 inches long from the top of the bail to 1.20 inches wide.  The Biggs Jasper cabochon by itself measures 30mm in diameter.  
Biggs Jasper meaning:
Biggs jasper was discovered in the basalt deposits in the bed of a creek around 1960 adjacent to Biggs Junction, Oregon on the other side of the Columbia River.  Lava covered a big area of the states of Idaho, Washington and Oregon.  That was thousands of years ago. 
The ashes and minerals would have broken down and become clay on top of the basalt.  When the lava was first flowing, the basalt would have heated up from the high temperatures and pressure and starting losing all its moisture.  Probably looked pretty steamy.  The heat and pressure would have rippled through what would have been mud.  The heavier grains of iron would have banded together with the limonite.  This would have made it flexible like plastic.  As the earth shifted underneath, the layers broke up and became more marbled.  This is what the Biggs Jasper has rosettes in its designs.
The Biggs Jasper is actually in between the layers of the lava.  The glaciers, rainfall and river currents probably moved the clay from its original outcrop upstream.   
So even though it is from lava flow, it is sedimentary in formation.  Oftentimes the layers of sediment that formed within the jasper are scenic as in horizon, hills and valleys.  This is why Biggs Jasper is in the category of picture jaspers.  Oregon picture jasper is typically in hues of mauve, gray, beige, sienna and brown.
Biggs Jasper metaphysical properties:
This stone, Biggs Picture Jasper, is all about creating a happy home.  Good to wear during home construction and decorating.
Great combination of Venus and Saturn: beauty and form.