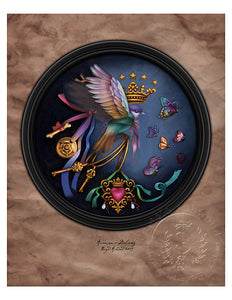 Beautiful art print of a rich illustration of rainbow-tinted bird in flight with a hold starry crown hovering over it head. Attached to its left wing is a gold ring strung with colorful ribbons with a gold bone, and a gold charm.  In its talons it carries three gold hoops, two with gold keys, and one strung with a green ribbon that supports a gold filigree, crowned red heart.   On the right side is a lek of butterflies.  
Print by Brigid Ashwood.
Printed with color-fast ink in a matte finish on acid-free paper.
Ships flat with backing cardboard in a clear sleeve.