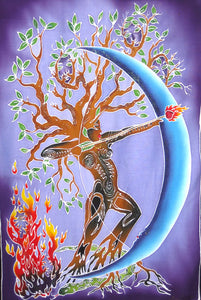 This beautiful batik banner was made in Bali in Indonesia by a group of women from the Ubud region.  
In Ubud, Batik Indonesia is a resist-dye process.  Wax is applied in the design or areas that stay white, such as the drawing of the pattern itself on the batik cloth.  The dyes are painted on and blended.  The dyes do not cross over the wax lines.  Once the dyes are permanent, the wax is removed and the batik fabric is spread out to dry.  This time-honored, hand-made process is what renders the amazing detail and watercolor look to the fabric.  
Once dry, the fabric banner is hemmed by village craftswomen.  This fabric wall hanging is machine-washable on a cold water cycle and machine-dry on gentle.
This moon goddess tapestry usually measures 25 inches wide by 31 inches long.  I say usually because each one is hand made in a village the size is determined by the piece of batik fabric available at the time.  The top of moon tapestry or wall hanging tapestry is folded over to create a 1-3/8 inch pocket for a dowel or rod.  
In Greek mythology, Artemis is one of twins born to Zeus and Leto.  Her twin is Apollo, the god of the sun.  Artemis is associated with purity, virginity, cypress tree, deer, bears, dogs, midwifery, hunting and the Moon.  Her bow is often portrayed as a crescent moon.  Her bows are golden.  The Temple of Artemis in Ephesus was one of the seven wonders of the ancient world.  When the Romans invaded Greece and acquired their mythology, they renamed Artemis Diana.
I think you'll agree that Artemis brings a unique touch to the most elegant room or as a dorm tapestry wall hanging.  Goes well with your other Balinese decorative accessories or as a Boho wall hanging in an alternative birthing room.
 Product code 125.