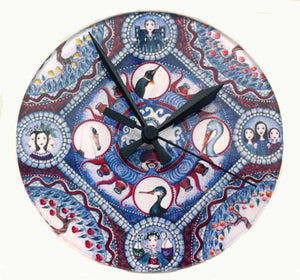 8 inch round wall zodiac clock manufactured by Acrylic Idea Factory featuring Aquarius as a mandala clock face.  (Astrology clock is made of acrylic.)
Your Aquarian clock needs two AA batteries (not included) to operate. 
Mandala meaning 
The word mandala comes from a Sanskrit word for circle.  Different mandalas mean different things and have different purposes depending upon the design and its geometry, the colors and the cultural interpretation.  Most often, it is used for purposes of meditation as a point of focus.  The mandala embraces the sacred order of things on a cosmic and psychic level.