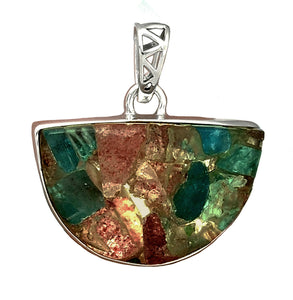 Natural Aquamarine cut and polished with Sunstone as it was mined.  The surface of the cabochon has the outlines of the two stones as the interconnect.  Very beautiful like a mosaic, but know that the surface is not a highly polished surface, but left slightly "raw" to reflect the texture of the two stones intermingled.  Measures 1-1/4 inches long.  A beautiful addition to your crystal collection: aquamarine and sunstone jewelry pendant.
Natural, untreated beautiful aqua Aquamarine and Sunstone.    
Aquamarine meaning:
Aquamarine strengthens the thyroid, spleen, liver and kidneys.  Stimulates the white blood corpuscles.  Feeling disoriented?  Have a hard time making conversation on dates or at a party?  Writer's block?  This is the gemstone to balance you out.  Great combination of Mercury and Uranus.
Sunstone meaning:
Sunstone is sparkly due to the little scaly bits of red copper inclusion.  This effect is called shiller.  Sunstone opens the heart chakra and balances the first five chakras in harmony.