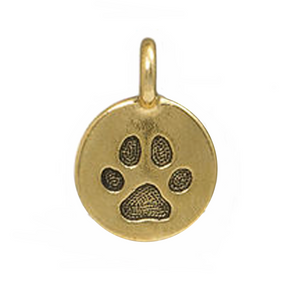 This antique finish, gold plated lead free pewter charm of a paw print.  A loop is attached at the top so you can easily attach it to a necklace or add it to a charm bracelet.  This charm features a deep gold color that will complement rich colors well.  Lots of fine detail.

TierraCast charms are made in the USA from high-quality lead free pewter.  The hole measures 2mm.  It is 0.62 inch high by 0.44 inch wide. 
Great addition to your collection of fanciful charms.  Great if you like storybook charms or vintage beads and charms, especially gold beads and charms.