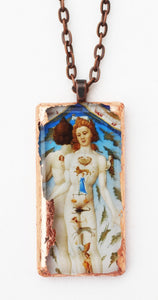 Anatomical Zodiac Man Copper-Coated Glass Tile Pendant 
Glass tile pendant image is a famous illustration entitled Zodiac Man from the volume Les Trés Riches Heures du Duc de Berry, published in the 1400's.  In the illustration, you see the correlation between zodiac sign and the part of the body it rules, i.e., Aries the Ram rules the head, Taurus the Bull rules the neck, Gemini the Twins rules the shoulders and arms, Cancer the Crab rules the chest, Leo the Lion rules the heart, Virgo the Virgin rules the abdomen, Libra the Scales rules the Kidneys, Scorpio the Scorpion rules the reproductive system, Sagittarius the Centaur rules the hips and thighs, Capricorn the Sea Goat rules the knees, Aquarius the Water-bearer rules the shins and ankles, and Pisces the Fish rule the feet.  
This glass tile measures 1-7/8 inches long by 15/16 inch wide by 3/16 inch thick.  It is backed with copper leaf so that the knowledge and balancing energy of the image is transmitted to the wearer.  Comes on a distressed, copper 24 inch chain.  
Truly a unique gift.