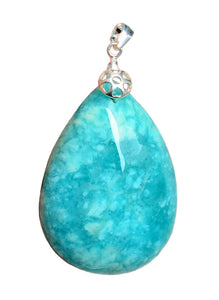 Natural Amazonite necklace pendant.
Puffy pear-shaped pendant with sterling silver star of David Bail.
Amazonite healing properties:
The Amazonite cabochon part of the pendant measures 1-1/3 inch long by 1 inch wide at its widest point.  It is 3/8 inch thick.  Nice glassy polish.
It's easy to remember what Amazonite is for if you associate it with the Amazon warrior women.  Amazonite strengthens your ability to stand up for yourself and to speak from your heart.  Amazonite stone is especially effective when confronting authority figures or defending yourself in court.
Amazonite strengthens your heart and solar plexus and their chakras by aligning them within your mental and emotional bodies. Amazonite invites in more chi, more life force, on a molecular level.  
Keep Amazonite near your homeopathic remedies to lengthen the duration of their effectiveness.