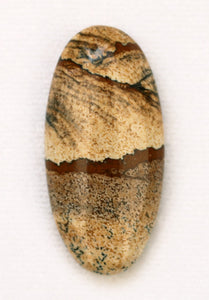 African Queen Picture Jasper cabochon to mount as a pendant or carry in your pocket.  
Picture Jasper metaphysical properties:
African Queen Picture Jasper is good for so many things: clear skin, retaining youth, petrochemical exposure, immune system, kidneys and thymus.
Brings great relief to those suffering from hallucinations, nightmares, and disorientation.  Quietly releases suppressed trauma and fear. 
Since it activates the pituitary gland, it enhances psychic ability, past life recall and vision quests.  It works with the fifth and sixth chakras balancing the astral and ethereal bodies.  Hold it to your throat while visualizing.
Keep it alongside a clear quartz crystal to keep it pure when not in use.