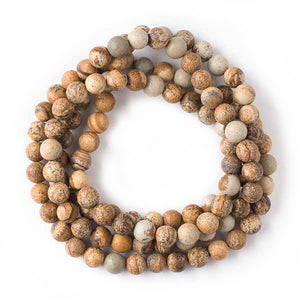 Natural African Queen Picture Jasper 6mm beads that are perfect for a 38 inch necklace or a mala.  There is a total of 115 beads, so you have 7 left over if you do make a mala to add to a bracelet or for earrings.  You could also add counter beads of other gemstones.
African Queen Picture Jasper meaning; 
This is mud that has petrified into jasper.  Amazingly, it depicts the landscape where it is mined.  Mined in southern Namibia.  This Jasper is softer than most jaspers and that is why the polish is more of a satin finish than a shiny finish.  It is also called Kalahari Picture Jasper.
African Queen Picture Jasper properties:
This pendant is an exceptional example of natural "landscape" gem art.  
Great for art, gardening, attracting money and love, feeling appreciated, self-esteem enhancement, and feeling a genuine connection to the Earth.
Venus in Gemini energy.