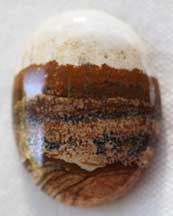 Picture Jasper metaphysical properties:
African Queen Picture Jasper gemstone strengthens your connection to Mother Earth and gets you grounded.  Great for stress reduction. 
African Queen Picture Jasper stone meaning:
This is a lovely piece.  As the name implies, the coloring and patterning of the face of the stone have a scenic look and very often actually do look like the area from which they were excavated.
This picture jasper cabochon is 1-1/8 inches long, highly polished and flat on the back.  It can be mounted in a setting or used as is as a pocket stone or slipped into a bra.