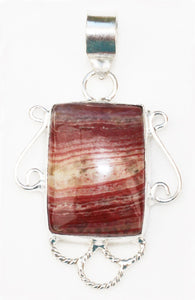 Red Snakeskin gemstone jasper rectangular cabochon set in sterling silver with filigree design
Snakeskin jasper meaning:
It gets its name from its appearance as often the coloration and layered pattern looks like the skin of a red snake.
Red Snakeskin jasper healing properties:
Red Snakeskin Jasper rectangular cabochon set in Sterling silver with filigree design measures 1.93 inches long by 1.13 inches wide.
Red Snakeskin Jasper is for vibrant health, leadership excellence, honor, passionate love, prosperity, fertility, courage, new creative energy, and attracting best friends/lovers.  
This is one of the best crystals to wear at the casino!