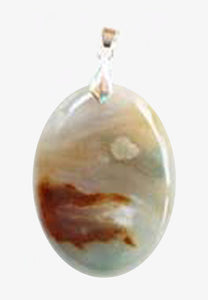 Ocean Wave Jasper pendant that is fairly translucent and measures 1-13/16 inches long.
Ocean Wave Jasper resonates with the Sun and the Moon, especially when joined with Neptune or in the sign of Pisces.  It combines higher self's conscious intention of the Sun, the subconscious mind's desire to serve of the Moon, and the spiritual ideals, compassion and peace of Neptune or Pisces.
Properties: It is all about rest, replenishment, reflection, and the profound peace found in meditation.