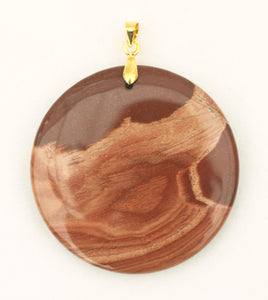 Round Red Snakeskin Jasper pendant that measures a little over 1-3/4 inches in diameter and 2-1/8 inches long with the bail.  The bail is 14k gold plate over sterling silver.
Snakeskin Jasper meaning: 
Snakeskin stone is named after the similar appearance of the scaly skin of red snakes.
Snakeskin Jasper healing properties:
Red Snakeskin Jasper is for courage, new creative energy, passion, and attracting best friends/lovers.  Wear for vibrant health, leadership excellence, honor, passionate love, prosperity and fertility.  This is one of the best crystals to wear at the casino!