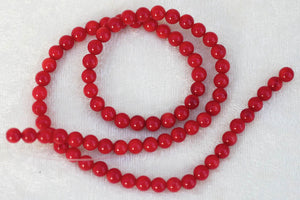 A 16-1/2 inch strand of Red Coral beads.  These natural coral beads are just a tiny bit smaller than the usual 6mm coral beads: 5.5mm round beads.
Red Coral is an Aries stone, especially good for those born from March 11th to March 20th.  And it's a good one as Red Coral helps us complete things - Aries people are great at start-up's, but not always as enthused in finishing up.  
Authentic coral beads: 80 bead count.