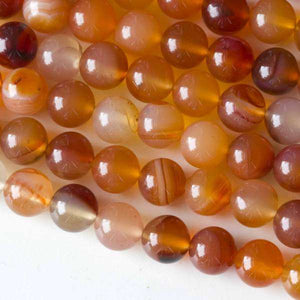 One eight inch strand of natural Carnelian beads.  There are 25 beads that measures 8mm in diameter.
Carnelian properties:
Carnelian agate is a truly magnificent crystal.  Opens up your heart chakra, bolsters your courage, aligns you with your purpose, speaks to you of your passion, harmonizes you with your children, especially your first born, and turns up the joy.  Great for heart health.  It feels good just holding it and even better wearing it.  Carnelian beads allow you to take this powerful life amplifier with you. Also, great for connecting to your kitty cats and the Leo's in your life.

Hand-carved and polished so the actual bead size of this 8mm beads can vary from 7.9mm to 8.1mm.