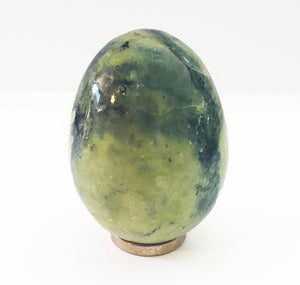 Super gorgeous natural Serpentine egg from Peru that measures 51mm high by 38.5mm in diameter (2 inches by 1.5 inches).  
Serpentine meaning:
The Serpentine mineral is named after a serpent because the stone's coloration is similar to that of a particular snake's skin in ancient Italy. 
Serpentine healing properties:
As with many green stones, Serpentine stone stimulates psychic ability.  It also oxygenates your red blood cells and increases cell regeneration.  Hold it and use it while visualizing prosperity, healing (especially post-surgery), and improved circulation.  Regular handling of Serpentine safely accelerates kundalini rising.  Serpentine stone was sed by the ancient Romans to halt signs of aging as it has Phoenix-like properties.