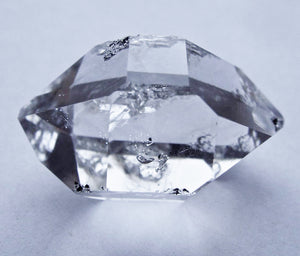 14 to 20mm long, this hand-mined Herkimer Diamond is double-terminated.  As you can see, it is top quality, water clear. 
Herkimer Diamond meaning:
Authentic Herkimer Diamonds are colorless crystals that look like diamonds even though they are natural, rough crystals.  Whereas Quartz crystals broadcast information, Herkimer Diamonds store information.  The authentic Herkimer's, which these are, were mined in Herkimer, New York.  Herkimer's formed during the Cambrian Age.  They are about 500 million years old.  They are an incredibly clear form of quartz.
Natural Herkimer Diamond properties:
Herkimer's contain the wisdom that enables the owner to manifest their supreme spiritual and material wishes.  
Herkimer Diamond healing properties:
The vibration includes effort and determination, but also ease because every effort is accompanied by a feeling of gratitude that goals will be reached and desires will be satiated.  
Measures 17.75mm long.  Cleaned only with water, no acid or cleansers.  This Herkimer Diamond has a tiny bit of matrix and a few internal wisps.  Jewelry-grade clarity.