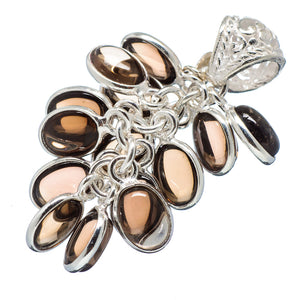 Smoky Quartz pendant comprised of 14 faceted oval natural Smoky Quartz gems on sterling silver chain.
Smoky Quartz properties:
Smoky Quartz incites safe kundalini release.  Also excellent for issues concerning abdomen, kidneys, pancreas, reproductive system, fertility, adrenals, heart, muscle loss, and nerves. Improves coordination and functioning of first, second and third chakras. 
These Smoky Quartz oval gems each measure 4.5 by 6.5 mm.   
Pendant measures 1.5 inches long including the bail.  Great addition to a collection of Smoky Quartz jewelry.