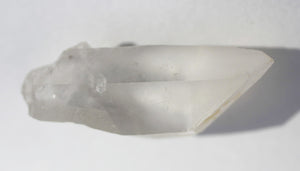 Genuine Lemurian laser wand that weighs 9/10th ounce and measures 1-5/8 inches long.
Lemurian Quartz Crystals are not the same as other quartz crystals.  They were discovered in an excavation pit when the digging crew hit a thick layer of sand.  These strange crystals were buried there in the sand.  Strange in that they were each buried singularly as opposed to how quartz usually grows in clusters.  They are also long from the base to the point rather than broad at the base.  And they have distinct etched lines on one or more of the sides like ridges and many have little raised or depressed symbols that seem like hieroglyphics that run up the center of one of the etched sides.   The Lemurian Quartz Crystals are cloudy inside rather than sparkling clear.  They look frosted. 
When you rub two Lemurian Crystals together, they produce sparks.  
Lemurian Quartz metaphysical properties:
These crystals carry sacred information about the Lemurian civilization and steps towards enlightenment.  When used for meditation, rub your thumbs along the ridges or symbols to receive Lemurian transmissions. 
They don't stand up as they have not been altered from how they were found in Brazil.
Great stone for Gemini people born between 11 and 20 degrees Gemini.
Product code 11b.