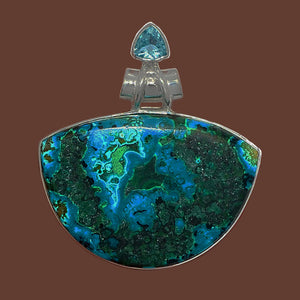 Beautiful Malachite crystal formed inside Chrysocolla crystal.  This Malachite Chrysocolla pendant is natural, untreated bullnose stone mounted in a handmade sterling silver setting.  It measures 1.54 inches long by 1.4 inches wide.  It is not a perfectly smooth shape due to the stone's formation.  There is a slight aberration on the lower right side.
Chrysocolla and Malachite meaning:
United, these two crystals as Malachite and Chrysocolla jewelry help creative, artistic types to achieve greater success and attract trustworthy individuals to help them manage their money.  
Blue Topaz metaphysical properties: 
Blue Topaz brings opposites into harmony, so it is a natural recommendation to insure a happy marriage or business partnership.  Also great for mediations and any kind of position resolution to a long-held dispute.  Physiologically, Blue Topaz balances the emotional body and calms inflammation. 
It is also recommended for cell regeneration, rejuvenation, and third chakra activation and balancing. 
Expose your Blue Topaz to sunlight for ten minutes or so every so often.  Even better, expose it to sunlight through blue film.  Keep topaz jewelry on a piece of quartz when you don't wear it.