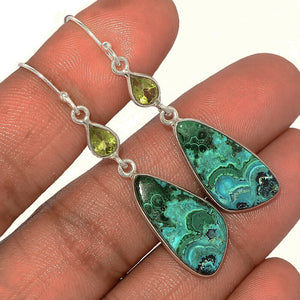 Beautiful Malachite crystal formed inside Chrysocolla crystal.
These Malachite Chrysocolla earrings are natural, untreated, 11.3mm wide by 23mm stones. Each earring is accented by a 5mm by 7mm natural pear-shaped faceted peridot gemstone. 
Each earring measures 2 inches long form the top of the ear wire to the bottom of the frame.
Chrysocolla and Malachite meaning:
United, these two crystals as Malachite and Chrysocolla jewelry help creative, artistic types to achieve greater success and attract trustworthy individuals to help them manage their money.