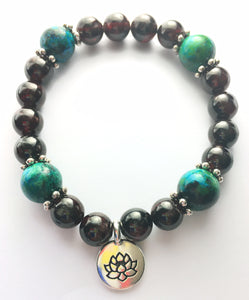 January birthstone bracelet with a round lotus charm.  January is the first month of the year in the Julian calendar and the first of the seven months that have 31 days.  The first day of January is an important day as it is the first day of the year.  It is celebrated as New Year's Day.  January is a very cold month in the northern hemisphere and a very warm month in the southern hemisphere.
In the northern hemisphere, January is the second month of winter and the second month of summer in the southern hemisphere.
January is Januarius in Latin, which means door.  Think door that opens to the rest of the year.  
There is also the god Janus, who rules beginnings in Roman mythology.  
Eighteen 8mm Garnet beads, four 10mm Chrysocolla beads and eight silver spacers on super-strong elastic.  7.5 inch circumference.
Chrysocolla meaning:
The name, Chrysocolla, is derived from the ancient Greek words, chrysos kalla, which mean gold glue in reference to the substance that was used to solder gold, first used round 315 BCE.  
Chrysocolla properties:
Chrysocolla is such a great fairy crystal. Wear it and ask the fairy kingdom for assistance, such as manifesting specific amounts of money, recognition, promotions, trips to the ocean or sea, profitable business, or good old luck.
Lotus flower meaning:
A lotus flower emerges from the muddy waters pure and beautiful, untouched by the murk of its environment.  Not even rain disturbs the lotus bud or blossoms.  Rain droplets bead up and roll off back into the pond.  Wearing a lotus blossom charm is an everyday reminder to practice spiritual detachment from all of the distractions of the noise and sensationalism in the world.  Every time you see your bracelet, you can easily remember to let others' negativity be like water off a duck's back. 
Product code 133.