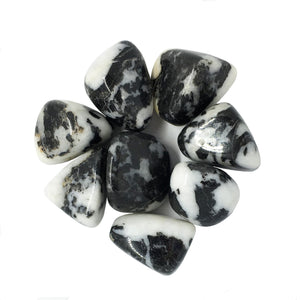 Black and White Zebra Jasper or Zebra Agate tumbled stones with great markings.  Each stone measures between 29 to 30mm.  Weighs 4 ounces give or take 1/10th of an ounce.  There are typically eight stones.
Hold Zebra Agate in your hands until you feel yourself relax and let go as you zen out.
Zebra Agate is sometimes called Zebra Jasper, Zebra Quartz, Zebra Onyx, Zebra Stone or Zebra Jasper Stone.
Carry Zebra Agate in your pocket to move through your life more effortlessly and with an aura of zen.  
Zebra Jasper Stone meaning:
As you might surmise, it is named for the Zebra animal due to the similar coloring and patterning.
Zebra Jasper metaphysical properties:
Zebra Agate effortlessly invites the changes you need to release what you no longer need or desire in your life.  Helps divorces go more easily.  As old, outmoded behaviors, ideas, situations and even people release from your life, fresh new situations, philosophies, approaches, ideas and people invites themselves in.
Hold it every day when going through life events that are about release and renewal.