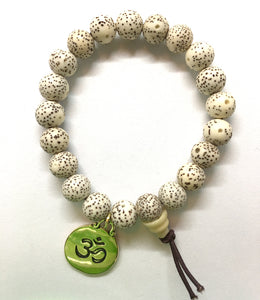 White Lotus Seed mala bracelet strung on stretch elastic cord with resin guru bead and gold-tone Om charm.  The round charm is 5/8 inches in diameter.  Also called a Buddhist mala bracelet or one of the many Tibetan mala bracelets.
This White Lotus Seed mala bracelet bead size approximately measures 8.5mm and the hole size is 1.5mm.  White Lotus Seed mala bracelet fits a 5-3/4 inch to 6-1/4 inch wrist.
The color of the seeds vary and can be anywhere from white to off-white to light beige. 
Wearing a lotus seed bracelet is an everyday reminder to practice spiritual detachment from all of the distractions of the noise and sensationalism in the world.  Every time you see your bracelet, you can easily remember to let others' negativity be like water off a duck's back.  The lotus seed is important because of the flowers of the plant that grows from it.  A lotus flower emerges from the muddy waters pure and beautiful, untouched by the murk of its environment.  Not even rain disturbs the lotus bud or blossoms.  Rain droplets bead up and roll off back into the pond.  

Om symbol meaning:
The Om symbol is a spiritual symbol in Hinduism.  It is also a syllable and as a syllable is called a pravana.  Om has a syllable dates back to the Upanishads, which is a set of mystical books about the Vedanta philosophy.  Om is considered a sacred sound and is used a tool for meditation by a long expression of its sound: ooooohhhhhhhmmm.  It is a mantra in the religions of Hinduism, Buddhism and Jainism.
Om is the first word of the mantra Om Mani Padmi Hum and scholars interpret this to be the totality of sound, existence and consciousness.
Product Code 10