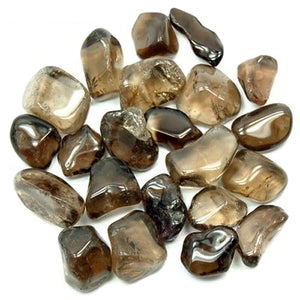 One natural Smoky Quartz large tumbled stone that measures anywhere from 1 inch to 1-1/3 inches.  Also spelled smokey quartz. 
Smoky Quartz metaphysical properties:
Smoky Quartz incites safe kundalini release.  Also excellent for issues concerning abdomen, kidneys, pancreas, reproductive system, fertility, virility, adrenals, heart, muscle loss, and nerves.
Improves coordination and functioning of first, second and third chakras.
This crystal brings about organization.  It is a must-have for anyone running an organization.  
One of the best crystals for a new father or an executive.