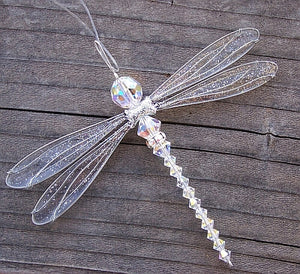 Silvery Dragonfly mobile in a large size.  The gossamer wings are handmade and span 6.75 inches.  They are silver-toned, not actual silver.  The body of this dragonfly Swarovski crystal suncatcher is made with purple Swarovski crystals.
Hang one on your rear view mirror, in your garden, in your home or office to add some whimsical energy.  Use your dragonfly mobile to accent a mirror or in a spot that needs a little magic!  
Great gift for a friend who collects suncatchers, especially Swarovski suncatchers.