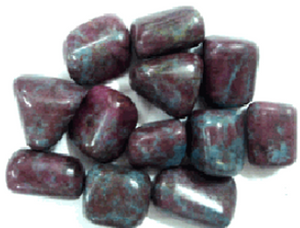 Tumbled Ruby in Kyanite stones.  On the average, a half pound has ten stones.  Each of the stones typically measures 3/4 inch by 3/4 inch by 1 inch long.  
Ruby Kyanite meaning:
Ruby Kyanite is also called Anyolite, which is rooted in the Masai word anyoli for green. 
Ruby Kyanite metaphysical properties:
This is a crystal of good fortune associated with ambition and business opportunities.  The combination of Ruby and Kyanite allows harmony in the midst of change.  It enables an intuitive understanding of various individuals' needs within the company, partnership or relationship so that fair, reasonable and fulfilling agreements and goals can be achieved.
Wear these earrings in meetings as they prompt diplomacy and poise.  
Since they make changing situations go more smoothly, these are also good earrings to wear when traveling.