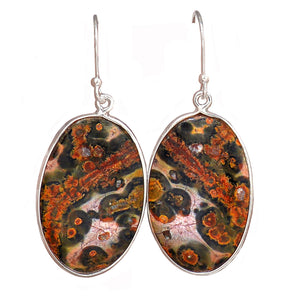 Rhyolite is also known as Leopard Skin Jasper and Wonderstone. 
Rhyolite meaning:
Really nice specimens of Leopard Skin Jasper in a classic style.  Leopard Skin Jasper enhances independence, determination, passion, visibility, winning in competitions, vitality, commitment to the good fight, and the ability to take a stand.  
Rhyolite properties:
One of the best crystals to come to your aid in a legal battle.
Helps bring about a change for the better, especially for those with July birthdays.
Each earring is 1.9 inches long from the top of the ear wire.  The Rhyolite cab in each earrings measures 20mm wide by 30mm long.  The backs of the cabochons are not polished.