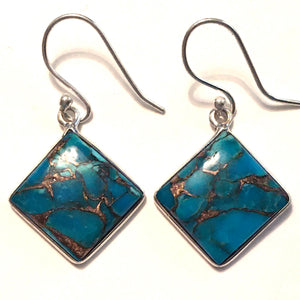 Mediterranean Blue Sea Sediment Jasper square cabochons framed in sterling silver.  Each cabochon measures 14mm square.  The backs are not polished.  Each earring measures 1.45 inches long.
Sea Sediment metaphysical properties:
Sea Sediment is a combination of Variscite with a sprinkling of Pyrite.   This crystal is all about embracing beauty.  Seeing the beauty in one's self, in those around you, and in the world.  Enhances self-esteem.  Great crystal for decorators, designers, models and therapists.