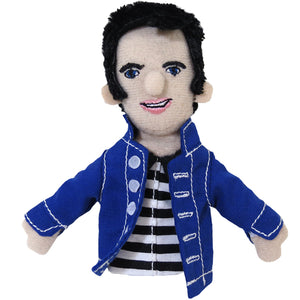 Elvis Presley magnetic finger puppet about 4 inches tall.  
Great hostess gift and a sure hit as a fun birthday present that is also a conversation-starter!
NOW APPEARING as a puppet on your finger and a magnet on your iron bars! Elvis Presley's in his Jailhouse Rock ensemble and ready to treat you nice, so come and do the jailhouse rock with him!
UPG finger puppet or philosopher finger puppet. 
Product code 137.