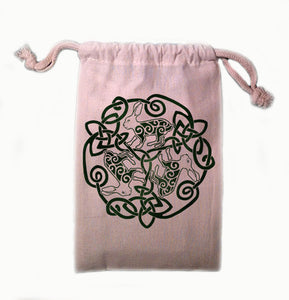 Natural off-white cotton color. Gorgeous!  100% unbleached cotton. Image is a professionally applied heat transfer with vivid color. 

Bag is approximately 5.25 inches by 8 inches with a drawstring top.
This pouch is a perfect fit for standard size tarot decks with or without their boxes and even holds over-sized cards!
These also make great gift bags where the wrapping is also a gift, especially for a tarot deck, jelly beans, bath salts, a recipe mix, or sage smudge sticks.  
Also great to hold crystals, runes, jewelry or even an iPhone or iPod!