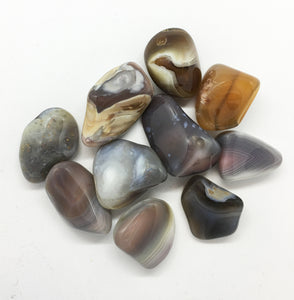 Great price on bulk tumbled stones.
One quarter pound Botswana Agate tumbled stone that are like small palm stones.  These are semi precious tumbled stones.  
Botswana Agate meaning:
Botswana Agate is volcanic in origin from 187 million years ago.  Unlike other igneous stones which form in flat layers, these stones formed in waves along rolling in and out of existing fault lines.
Botswana Agate does come from Botswana, Africa.  In Botswana, it is known as Sunset Stone.  It is believed to hold the sun's light  to provide safety and security to those who are alone in the dark.
In Africa, Botswana Agate is used in fertility rituals.  Tumbled stones and crystals are a nice addition to your bath tub.
Botswana Agate properties:
Botswana Agate is amazing.  These natural tumbled stones of Botswana Agate are the best stones for increasing oxygen intake throughout your body and specifically skin, lungs, blood and brain.  It is excellent for smokers or those who have suffered from smoke inhalation.  Great for life guards; helps revive rescued individuals.  These tumbled polished stones are just the right size.  Hold a Botswana tumbled agate stone after exposure to X-rays.
Botswana Agate lifts the energy of depression and lethargy.  Put one of these tumbled crystals in your bra or in your pocket.  Encourages wisdom by encouraging reflecting, checking within, slowing down, and learning from past behaviors.  Tumbled crystal stones can also go in your purse, gym bag and coat pockets.
We are so happy to offer bulk tumbled crystals.  Tumbled natural stone by the quarter, half and one pound lots.  Now you can find the tumbled rocks and polished tumbled stones for sale here at Life Is A Gift Shop.