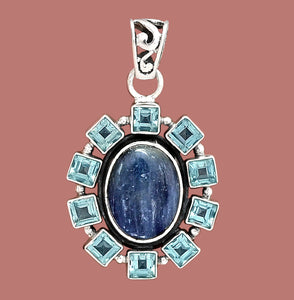 Really nice, smooth polished Kyanite oval cabochon surrounded by an oval of ten 4mm square faceted natural Blue Topaz gemstones.
Blue Kyanite meaning:
If Blue Kyanite were a person, she would be a lovely water sprite or a mermaid that brings your visions and dreams to life.  She would represent the signs of Cancer, Scorpio and Pisces and relay messages to you from your subconscious mind.  Her skin would probably be light complected and her long hair would be braided as a representation of the subconscious, conscious and higher selves integration.  Comely and compassionate, her voice would be sweet yet powerful.  She would consider herself a muse to spiritual leaders and great sages.
Especially helpful for individuals born between July 3rd and July 13th.  
Blue Topaz brings opposites into harmony, so it is a natural recommendation to insure a happy marriage or business partnership.  Also great for mediations and any kind of position resolution to a long-held dispute.
Physiologically, Blue Topaz balances the emotional body and calms inflammation.  It is also recommended for cell regeneration, rejuvenation, and third chakra activation and balancing.
Expose your Blue Topaz to sunlight for ten minutes or so every so often.  Even better, expose it to sunlight through blue film.  Keep it on a piece of quartz when you don't wear it.
Measures 1.62 inches long and .95 inch wide.