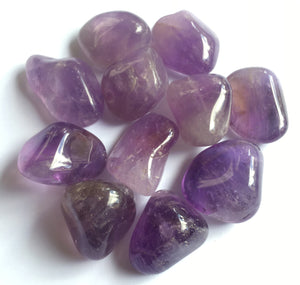 Mined in Brazil.  Nicely tumbled and polished.
Great when you need to add purple vibrational energy to your day.
Amethyst meaning:
Amethyst turns into Citrine (golden color) when exposed to heat or light, so keep your amethyst pendant away from your windows to preserve the wonderful purple color.
The gemstone name Amethyst is derived from a Greek prefix, which is to negate something.  The prefix is just the letter "A" and so putting the a before another word negates what follows.  The rest of the name is from the Greek word methystos, which is about being intoxicated or drunk.  So the name Amethyst essential means that to wear this stone will negate or prevent intoxication or drunkenness.  
Amethyst stone benefits or Amethyst properties:
Cayce wrote about the metaphysical properties of amethyst.  He wrote that deep purple amethyst calms the temper, enhances healing and fortifies one's energy when most needed.  Also improves sleep.  
As implied above, one of the other amethyst healing properties is sobriety.
The photo shows a random sampling of amethyst stones totaling this weight.  Eight amethyst stones, give or take, usually comprise half a pound.  Each Amethyst stone typically measures 1-1/8 by 1-1/8 inches.