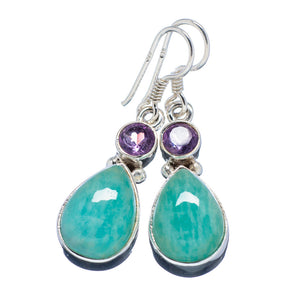 The Amazonite earrings are accented by faceted Amethyst 4.5mm rounds gems.
Amazonite healing properties:
It's easy to remember what Amazonite is for if you associate it with the Amazon warrior women.  
It strengthens your ability to stand up for yourself and to speak from your heart.  It is especially effective when confronting authority figures or defending yourself in court.  
Amazonite strengthens your heart and solar plexus and their chakras by aligning them within your mental and emotional bodies.  It invites in more chi, more life force, on a molecular level.  
You can keep your earrings near your homeopathic remedies to lengthen the duration of their effectiveness.  
Amazonite makes a great elixir.  Carefully lower your Amazonite earrings into your water glass using a teaspoon. You can just keep it there all day as you refill the glass and drink from it.  You might want to use a straw to avoid having your earrings hit you on the nose. 
Amethyst healing properties:
Amethyst is great for issues concerning pituitary, thyroid, thymus, and pancreas.  Balances metabolism.  Dissolves fatty tissue.  Also recommended for left/right brain hemisphere imbalances, i.e., epilepsy, dyslexia, coordination.  Enhances intuition.  Activates heart and third eye chakras, but also helps with sleep.  Fantastic crystal.  Amethyst turns into Citrine (golden color) when exposed to heat or light, so keep your amethyst ring away from your windows to preserve the wonderful purple color.